IHM Academy of EMS Paramedic Program - Entrance Exam
The Paramedic is an allied health professional whose primary focus is to provide advanced emergency medical care for critical and emergent patients who access the emergency medical system. This individual possesses the complex knowledge and skills necessary to provide patient care and transportation. Paramedics function as part of a comprehensive EMS response, under medical oversight. Paramedics perform interventions with the basic and advanced equipment typically found on an ambulance. The Paramedic is a link from the scene into the health care system.
The IHM Academy of EMS Paramedic Program is a consortium sponsored by Abbott Ambulance Inc. dba IHM Academy of EMS and Columbia Southern University.
Program Goals
To prepare competent entry-level Paramedics in the cognitive (knowledge), psychomotor (skills), and affective (behavior) learning domains with or without exit points at the Advanced Emergency Medical Technician and/or Emergency Medical Technician, and/or Emergency Medical Responder levels.
Upon successful completion of this course, graduates are eligible to take the National Registry of EMT Practical and CAT exams, the final step towards certification as a Paramedic.
To start the application process,
register for a screening exam HERE:
Course Structure
The schedule for didactic phase of the Paramedic course is two eight-hour days per week.
The program consists of four components for a total of 1096 hours:
Term 1:
Paramedic 101: Didactic

Paramedic 101: Lab
Term 2:
Paramedic 102: Hospital Clinical Internship

Term 3:
Paramedic 103: Field Internship (includes field experience and capstone field internship)
Didactic Phase: The standard schedule is two, eight-hour instructional days per week. However, certain cohorts may be offered in an accelerated format. The scheduled course days and hours vary depending on the course format which may include a hybrid design.
Hospital Clinical Phase: Scheduled according to hospital availability, and typically consists of two days per week, pre-scheduled eight to twelve-hour shifts. Students must be available for clinical scheduling during this portion of the program, which is two months in length, and must complete 252 clinical hours.

Field Internship Phase: Scheduled according to Advanced Life Support (ALS) provider agency availability, 336 field hours, pre-scheduled, ten to fourteen-hour shifts, for a period of twelve to seventeen weeks or approximately four months. The maximum amount of time permitted to complete the entire paramedic program is fourteen months.
Note: Periodically a specific course is designed to be delivered in a hybrid format and is advertised as 'hybrid'. The format is remote synchronous delivery of instructional content. Skill sessions are scheduled as an intensive session at the end of the didactic instructional content. Clinical and field rotations may be completed in the locale of the student or using the resources of the main campus.
For information on advanced placement within the paramedic program for military personnel, contact the Program Director.
Fees & Tuition
Tuition effective April 1, 2023
| | |
| --- | --- |
| Enrollment fee | $200.00 |
| Tuition | $8,854.00 |
| Insurance | $350.00 |
| Lab fee | $550.00 |
| Technology fee | $100.00 |
| Total didactic tuition charges | $10,054.00 |
| Clinical Coordinator fee | $400.00 |
| Field Coordinator fee | $350.00 |
| Graduation fee | $100.00 |
| Total including tuition, charges, and school fees | $10,904.00 |
A list of textbooks is provided with the student Enrollment Agreement.
Technology requirements
Courses include online assignments and students must possess, or have access to, an appropriate electronic device: a tablet or laptop is preferred. Computer availability on campus is limited, however wireless internet access is available.
Course Financing
The Paramedic program does not participate in Title IV Federal Financial Aid Programs. IHM Academy of EMS offers an interest free seven-month payment plan. Upon acceptance to the Paramedic Program, students must submit the signed student agreement and the first payment to be enrolled in the program. Tuition may be paid by check or money order and Visa, MasterCard, American Express or Discover.
IHM Academy of EMS is not a Title IV school and does not participate in Federal Financial Student Aid programs. We do participate in Federal Veterans Benefits and the other state funded assistance programs that are listed below. All scholarships are awarded by the sponsoring organization based on their criteria and availability.
Payment Plans - Monthly payment plans will be established for the individual programs. Students will be required to sign an agreement including the payment schedule.
Veterans Administration Benefits - Students meeting the requirements to receive VA benefits must come to the Student Financial Services Office to complete the appropriate paperwork. For more information, please contact the VA at 1-888-442-4551. Students seeking to use their VA Benefits must submit a Certificate of Eligibility to IHM Academy of EMS.

Ryan Hummert Memorial Scholarship - Available for Paramedic Students only. One scholarship awarded per semester. Selection based on essay submitted to FBO Ryan Hummert Committee.

NAEMT EMS Scholarship - Applications can be obtained online at naemt.org/join NAEMT/scholarshipinfo.htm. Scholarship application is eligible for First Responders to EMT-Basic, EMT-Basic to EMT-Paramedic, or Paramedic advanced education. The student must be a NAEMT member to apply. Membership is a $25 Student rate with proof of EMT student status for the first year.
Legacy Scholarship - boundtree.com or 800-533-0523 – Scholarship for a child of a Career or Volunteer EMS Personnel. Deadline date is March of the current year.
Students seeking to use their VA Benefits, state funded assistance programs, or to apply for area scholarships can contact the Admissions Office at 314-768-1234. IHM does not provide direct financial assistance other than limited payment plans.
Courses Dates
| | | | | |
| --- | --- | --- | --- | --- |
| Start Date | End Date | Days | Class Times | Application Deadline |
| 08/29/23 | 10/08/24 | T/Th | 9a-6p | 7/28/23 |
| 10/26/23 | 1/25/25 | W/Th (Hybrid) | 10a-2p | 9/28/23 |
Please note:
Application deadline is the latest date we will accept submissions.

You will be able to schedule your interview date/time at the time of your exam.

Expected program end date may vary based on completion of clinical and internship phases.

Assessment exams are valid for one year.
Application Process
Prerequisites
At least 18 years of age

Possess a high school diploma, official H.S. transcripts, or equivalency

American Heart Association BLS for the Healthcare Provider card

Applicant must hold National Registry EMT certification or Missouri EMT or AEMT license throughout the duration of the Paramedic program

Submit completed application packet

Valid email address: students will be required to correspond via email and will be notified via email of acceptance.

Proof of personal healthcare coverage

Background check, including a negative drug screen, is required prior to admission.

Proof of immunity or vaccination:

Measles, mumps, rubella (MMR): two shot series or positive titer

Tetanus/diphtheria: Tdap: within the last ten years

Hepatitis B: three shot series or positive titer

Chicken pox (varicella): two shot series or positive titer

Meningitis: documented shot as a teen or adult

Influenza vaccination: during flu season prior to beginning clinical rotations (for the clinical/field phases)

COVID-19 vaccination:  proof of vaccination prior to the first day of class.  Vaccination is two doses of the Pfizer or Moderna vaccine or the single dose of the Johnson and Johnson vaccine.  Exemptions are not permitted.  Boosters may be required by state or local health authorities or clinical or field internship sites.

TB testing is required prior to attending clinical or field internship rotations.

TB/PPD test is a two-step process.  If you test positive for tuberculosis, you must present a negative chest x-ray

Requirements for timing and repeat testing vary by clinical site and information is provided by the Clinical Coordinator.
Paramedic Program Entrance Exam

The Fisdap entrance exam is required for enrollment in the Paramedic Program.  Please select from the dates available and register. If you do not see any available dates listed, please contact us for more information.

You will receive instructions in a confirmation email on how to register for the exam on the Fisdap website. If you do not receive this email within 15 minutes, please check your spam or trash folders before contacting us.

Registration and payment on the Fisdap website must be completed within 24 hours after you receive your email confirmation. Although the exam is web based, the exam is proctored and must be taken onsite at the IHM campus. The entrance exam assesses EMT knowledge, reading comprehension, math, anatomy and physiology, and questions designed to reveal key personality traits and decision-making ability. It is recommended that testers review basic math (addition, subtraction, multiplication, and division); decimals and fractions before sitting for the exam.

Application processing cost: $25.00 (non-refundable.) Fee is transferable within 12 months). If you need to reschedule, please contact us.

Additional Fisdap exam registration fee is the student's responsibility.

Note: The exam takes approximately two hours. When choosing an assessment date, please remember to allow yourself enough time to complete all items in the application packet first.
Do not register for entrance exam dates that do not correspond with your program start.
Cancellations and Rescheduling:
The Paramedic program entrance exam fee is non-refundable. If you need to reschedule your entrance exam, you can roll the funds to a new exam date, but you must reschedule the exam Students seeking to use their VA Benefits.  Due to the large number of applicants, only one opportunity to reschedule is permitted.
Accreditations
The IHM Academy of EMS Paramedic program is accredited by the Commission on Accreditation of Allied Health Education Programs (www.caahep.org) upon the recommendation of the Committee on Accreditation of Educational Programs for the Emergency Medical Services Professions (CoAEMSP).
Commission on Accreditation of Allied Health Education Programs (CAAHEP)
727 210-2350
www.caahep.org
Committee on Accreditation of Educational Programs for the Emergency Medical Services Professions (CoAEMSP)
214 703-8445
www.coaemsp.org
IHM Academy of EMS partners with the Columbia Southern University in Orange Beach, Alabama to form a Consortium Program Sponsor. Columbia Southern University is institutionally accredited by the Distance Education Accrediting Commission (DEAC), an accrediting body recognized by the U.S. Department of Education and by the Council for Higher Education Accreditation (CHEA).
Distance Education Accrediting Commission
1101 17th Street NW, Suite 808
Washington, D.C. 20036
202 234-5100
www.deac.org
The IHM Academy of EMS Paramedic Program maintains an articulation agreement with Columbia Southern University for graduates to obtain college credits toward an Associate of Applied Science (AAS) degree. 
Missouri
The IHM Academy of EMS is approved by the Missouri Department of Health and Senior Services, Bureau of Emergency Medical Services. 
Outcomes
| | | | |
| --- | --- | --- | --- |
| Outcome | 2021 | 2020 | 2019 |
| Retention | 79.7% | 83.7% | 80% |
| NREMT Exam | 80% | 89.7% | 91.7% |
| Placement | 80% | 90.2% | 87.5% |
Register for Screening Exam
---
You can select a class from the list below for the date and location which is most convenient for you.
Location
2500 Abbott Place
St. Louis, MO 63143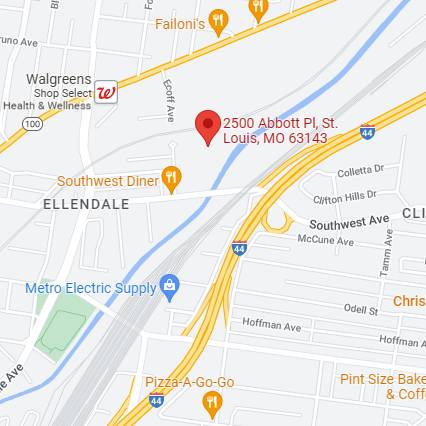 Contact Us
2500 Abbott Place
St. Louis, MO 63143
314-768-1234x43140
IHM@gmr.net

Main number 314-768-1234
Fax St. Louis 314-768-1595
EMS Program Manager Ext. 43143
Admissions Coordinator Ext. 43140